Some say closed face reels are the best kind of handy reels, and some say they are good for nothing. Well, everything has a good side and a bad side. And you can't deny one for another.
Being a professional angler, you might be comfortable with other gears, but as a novice player, you can't get enough from a closed face reel.
It's easy to use, flexible in hand, and has efficient mechanics in its close compartment. You can avail yourself of decent strength and speed to chase your trophy fish.
Moreover, a closed face fishing reel can make a big difference in your subtle fishing experience. And for that, you need to get the best one on charge.
In this article, we will be reviewing the 7 best closed face fishing reels based on public reviews, maximum rating, and real-time users experience.
You will also have an exclusive FAQ session and all the other things you should know about before buying a closed face reel.
So let's get started with knowing what a closed face reel is.
What Are Closed Face Reels?
Simply put, a closed face reel is a spin-cast reel, where all of the mechanism remains closed inside the reels' body. It looks nifty and works efficiently.
You will get a handle, a click button for casting, and a drag adjuster on the outer part of a closed face reel. And all of the mechanical equipment stays internally housed.
The spool is on a closed face reel supported by bearings and a washer. It releases a line through the front opening upon clicking on the reel switch.
This internal setup maintains the snare and line from twisting off. Initiates a proper cast and control for easy retrieval.
Closed face fishing reels are a handy and light reel option. Everyone can rely on a closed-face reel, from beginners to pro players, when it comes to calm fishing.
Though this reel is not recommended for a wide area and too much heavy fish, you can execute a pretty good result on medium to heavy catch in a defined area.
Best Closed Face Fishing Reel (Review)
Key Features
Material: Stainless Steel, Graphite
Weight: 12.4 oz
Fishing Line Type: Mono
Handle Material: Stainless Steel
Hand Orientation: Ambidextrous
The Zebco 33 max spin cast reel is the ideal option to begin this exclusive review series of the best closed face fishing reel. It's all-metal body blended with black and silver color portrays the perfect gear-ish look.
Precise graphite frames on an entirely stainless steel body balance the weight of this reel. The hand feel of this closed faced reel is comfortable and reliable.
This size 60 max spin-cast reel exclusively features a 2.6:1 gear ratio. Whatever your catch is, you will enjoy the smoothest retrieve ever with this reel.
Additionally, this Zebco 33 max closed faced reel is featured with a MicroFine dial-adjustable drag. This latest drag system will allow you complete control of your line.
With the built-in bite alert, you will get complete access to your trophy fish within a moment. The QuickSet anti-reverse on this reel will make the whole function more rigid and reliable.
Pros
Fast changeable right or left-hand retrieval gives you utmost convenience.
A 20-pound pre-spooled line makes the closed face reel perfect for big catches.
A solid no-tangling design makes your fishing experience smooth.
The Zebco 1-year warranty always has your back.
Cons
Previous users had faced a durability issue that the company has overcome over the years—a perfect closed face reel with no significant drawbacks.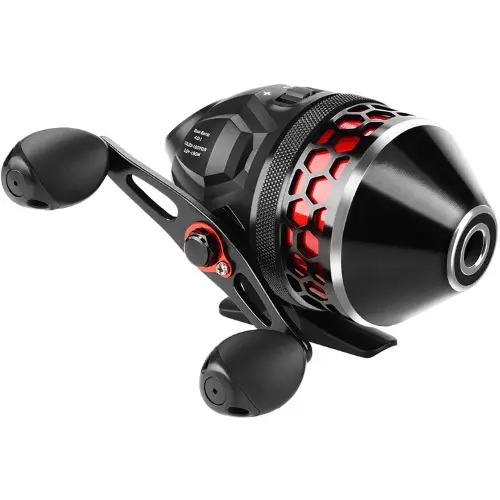 Key Features
Material: Graphite
Weight: 9.88 oz
Fishing Line Type: Monofilament
Handle Material: Aluminum
Hand Orientation: Ambidextrous
KastKing is a famous brand among both amateur and professional anglers. Their high-quality fishing gears are affordable and reliable. So this Brutus spin cast fishing reel, a quality closed face reel.
This KastKing spin-cast closed face reel is all graphite construction with a honeycomb exterior. With a solid aluminum handle, this reel gives you a premium experience with longevity.
The gear ratio on this reel is 4.0:1. You can assume how fast this reel is. This much speed will save you time with accurate and smooth casting. A quick-release thumb switch makes this happen at lightning speed.
Moreover, 5 stainless steel double-shielded ball bearings work as additional speed enhancers for this closed face KastKing Brutus reel.
While using this closed face reel, you will enjoy the fast retrieving rate and easy hand position switching. Whether you are brass fishing or trouting, its 10lbs pre-spooled KastKing mono line will ensure your absolute satisfaction.
Pros
Stainless steel made dual pick-up system for fast hook and mate.
The reel has 33% more line capacity than other reels.
Good to go with saltwater fights.
Double paddle rubber grips on the handle provide you with a stiff grip and total confidence.
This reel has a zinc alloy spool protected with a Teflon drag washer for a smooth internal function.
Cons
Unshielded bearings were the most significant drawback of this next to perfect closed face reel. But KastKing had made an upgrade with sealed ball bearings.
Key Features
Material: Aluminum
Weight: 10.6 oz
Fishing Line Type: Monofilament
Handle Material: Aluminum
Hand Orientation: Ambidextrous
This Omega pro spin cast fishing reel is another Zebco recommendation for fishing enthusiasts of all levels. With 20% less weight, this reel gives you a premium in-hand feel.
This reel is all-metal construction for durable and rough use. More precisely, it is designed with a forged aluminum and double anodized cover, brass pinion gear, and a dual-padded ambidextrous handle.
You can enjoy intense angling with this reels' oscillating quick-change spool. It is pre-spooled with a 10lbs Zebco fishing line. Also, the casting will be fast and easy with a soft press on the thumb button.
This reel has 7 bearings (6 + clutch), and a 19-inch retrieve rate to make the retrieval smooth like butter. You can make a fast move whenever you deal with a fast chase.
Pros
Sturdy and all-metal construction yet lightweight.
It's the perfect gear for medium to heavy use.
The fast anti-reverse clutch and dial-adjustable disk drag will help you compete in any tournament.
Also compatible with saltwater use.
Cons
It's a medium to heavy capacity reel. It may not work expectedly for lightweight prey and beginners.
Key Features
Material: Aluminum
Weight: 0.82 lbs
Fishing Line Type: Monofilament
Handle Material: Aluminum
Hand Orientation: Ambidextrous
This Pflueger spin cast reel is an attractive closed face reel you would love to take with you for your excellent games. Let's tell you why.
The Pflueger spin cast reel is solid aluminum construction with a defined closed face cone frame, wear-resistant dual pins made of titanium, and an aircraft-grade aluminum handle.
While the build material ensures durability, the specification promises a comfortable grip like the rubber knob on the metal handle.
With this spin cast reel, you will be able to cast with good accuracy. The gear ratio of 3.4:1 made it perfect for smooth retrieval and high traction.
Moreover, the 5 stainless bearings will make you feel strong while fighting with a big catch. And the solid spool drag of this will make your battle more enjoyable.
Pros
Superb outlook with long-lasting construction.
It's a premium quality reel at a budget price.
Delivers smooth tangle-free action every time you cast.
Cons
The customer service needs a serious upgrade to get customers' complete satisfaction.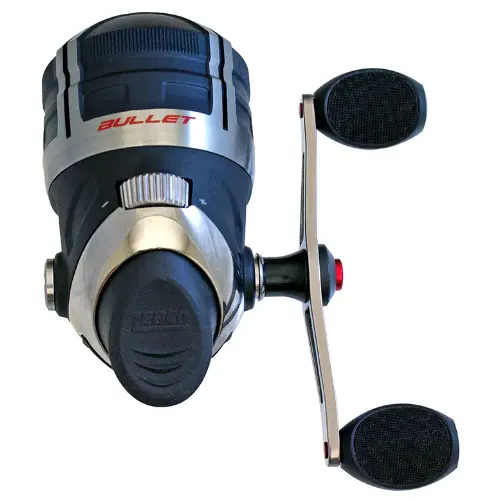 Key Features
Material: Blend
Weight: 1.19 lbs
Fishing Line Type: Monofilament
Handle Material: Aluminum
Hand Orientation: Ambidextrous
Again a closed face fishing reel recommendation from Zebco. Probably Zebco has the best range of spin-cast reels. And this 30-size bullet series is the beast of this range.
It's a traditional closed face design. It is made with a metal blend, a soft-to-touch thumb switch, and an ambidextrous handle with an all-weather GripEm knob.
The structure is precise, on point, and perfect for all hand movements. You will feel smooth while casting, retrieving, and angling.
With a powerful gear ratio of 5.1:1, you can make the fastest move as much as 29.6-inch per turn. The reel will provide you with hefty strength and the fastest speed.
The reel also features the max 9 bearings (8 bearings + clutch) and a triple-cam dial-adjustable drag. You get the control and hold you need for heavy and powerful targets like walleye, striper, etc.
Pros
The high-quality aluminum on each part of this reel makes it highly durable.
Pre-spooled with a 10lbs Zebco line.
A quick-change spool with an anti-reverse clutch helps in the smooth cast.
Cons
The price of this reel is just from the point of construction and usage difference. However, it's the highest range option of our series that might be a bit pricey for beginners.
Key Features
Material: Graphite
Weight: 8.7 oz
Fishing Line Type: Monofilament
Handle Material: EVA
Hand Orientation: Exchangeable
Whoever is looking for a super handy and comfortable closed face reel needs to check on this WataChamp bee spin-cast fishing reel.
The reel is mindfully crafted with graphite on yellow with black detailing of a honeycomb structure. Holding it almost feels like a giant-sized bee on your palm.
The handle of this reel is retrieval friendly. You can use either your right hand or left hand flexibly. The placement of handles' screws inside the body makes the hold more comfortable and smooth.
With a gear rate of 4.3:1, you maximize your speed when needed. This closed reel is powered with 5 bearings and 1 clutch to ensure strength and flexibility.
All of these reels' equips are double shielded and made of stainless steel. So you barely have to worry about rust or wearing.
Pros
Super convenient reel to use.
Perfect for all-level fishing personnel.
The reel goes well with both freshwater and saltwater environments.
Exclusive roller pins on the reel keep the line safe.
Cons
More drag adjustment would have been more appreciating.
Key Features
Material: Stainless Steel
Weight: 1.1 lbs
Fishing Line Type: Monofilament
Handle Material: Stainless Steel
Hand Orientation: Interchangeable.
Magreel is the last recommendation for this closed face reel series that comes at the least price. But its bright red metal structured with black detailing looks premium.
It's a total stainless steel construction. All are made of stainless steel, from handles to the outer frame or the 6 bearings (5 bearings + clutch) inside. That's why the reel is light yet durable.
A dual pick-up system has been featured on this reel to make retrieving easy and fast. You can cast and retrieve the line within a click without winding it—a good suit for an ultra-light rod.
With its 6 lbs pre-spooled line, you can make the most of this reel. The high-speed gear ratio of 4.3:1 gives you complete confidence instantly over any catch.
Pros
Its well-built closed face spin-cast reel on an unbelievable budget.
A comfortable finger grip handle allows you to change the position at your convenience.
The washer is made of Teflon
All bearings are double sealed.
Cons
A few users have reported the line provided with this reel is not up to mark. Better you change it with a new quality one.
What to Look In A Closed Face Fishing Reel
Knowing the key factors of using a product can significantly help shortlist the best options. You must cross-check the size, product material, longevity, and power to withstand adverse environments like saltwater or water current for a closed face reel.
Here, we will discuss a closed face reel's size, material, durability, and resistance.
1. Size
Size always matters, whether it's a closed face reel or an open-face one. The size of your reel depends on what king fishing you are going to experience.
Light reels with a small line are for lightweight fish, and big reels with a heavy line are for big and heavy fish.
Closed face reels may be small, but they are perfect for small-medium to medium-heavy catches. However, small yet efficient gear is a specialty of closed face fishing reels.
2. Material
A good quality closed face reel will build with the best material possible. Aluminum, metal blend, and graphite are great options.
Stainless steel is also a fine choice of material for a reel. All of these are solid, strong, and yet lightweight.
3. Weight
As in fishing, you need to hold your gears for an indefinite period. It would be best if you had something that would not feel heavy in your hand.
Closed face fishing reels are lite reels compared to others. A weight of more or less than 1 lbs is perfect for a closed face reel.
4. Corrosion Resistance
If you want to experience both freshwater and saltwater experience with your reel, you must make sure your reel allows it. And it is anti-corrosion.
While experiencing saltwater fishing, your gear may erode and wear off within a very few uses. But reels made of quality rust-proof material and have good corrosion resistance will go long.
Other than body material, make sure the internal mechanics are also resistant to corrosion. And for a closed face fishing reel, it is a must.
5. Durability
When you choose a quality material reel like aluminum or graphite, it ensures durability in return. However, besides material, some things can enhance the durability of your reels.
First, come first; always clean and dry off your reels after use. Especially when fishing in saltwater environments. Store your reels in a safe and dry place. Replace any rusty parts as soon as possible for long-term usability.
Frequently Asked Questions
1. What are closed face reels used for?
Closed face reels are perfect for minimizing line tangles during a cast. Anglers often use a theme for casting both light and heavy lures.
Additionally, closed face reels are less likely to break the line while casting and retrieving back to back.
2. What do you call a closed face reel?
Closed face reels are widely known as spin-cast reels. They are popular among experienced anglers. They offer more control and allow for more precise casts.
They're also great for fishing in windy conditions, as the closed face prevents the line from tangling on the spool.
3. Can you use a closed face reel on a spinning rod?
Yes, you can. Using a closed face reel on a spinning rod is most likely a budget solution for newcomers to fishing.
Moreover, there are certain advantages to using a closed face reel on a spinning rod. It's less prone to catching in line and can provide better accuracy when fishing finesse lures.
4. How many lines should I put on a closed face reel?
It depends on the capacity of your reel and the type of line you are using. You can put 10lbs of line if you're using mono line and 12lbs of a line if using fluorocarbon. Braided line is not so compatible with closed face fishing reels.
5. Is an open face or closed face reel better?
It is not possible to merely declare on reels' supremacy over others. Different reels perform differently in different situations. An open-faced reel performs better for wide water and heavy fish. And closed face reels are great for limited water areas and medium to medium heavyweight catches.
Final Words
A closed face fishing reel is an excellent choice for anyone looking for an easy-to-use and affordable reel. It is perfect for beginners or those looking for a compact and lightweight option.
However, fishing is fun and new always. You will never get the same experience a second time. But you can win every time with great gear, like an excellent closed face fishing reel. And that was all this broad write-up about.
We have the series 7 best closed face fishing reels hoping that this write-up will help you choose the best one for your next game. We wish you all the best with your purchase!